Parish Records - now available online!
Transcribing parish records is a mammoth task but with the aid of both volunteers and overseas transcribers a growing number of records are available online.
Currently, the Parish Records are available both on CD and online, and are searchable by surname, forename, date, and the church/parish.
Click here to view Parish Records online.
Where to look for Parish Records online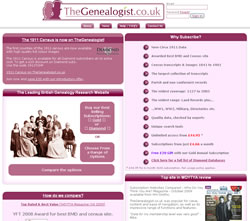 The Genealogist had the widest coverage of records from 1127 to 2005, and all the data is checked by experts for accuracy and quality.
In addition to this, S&N Genealogy Supplies has a great wealth of genealogical data and books on CD, as well as software and storage, thus making the company an invaluable resource to family historians.
TheGenealogist also offers other records, including Birth Marriage and Death records, Census Indexes and Transcripts, Directories, Army Lists, Crew Lists, Wills & Testaments, Landowner Records, World War 1 & 2 deaths, and more - from only £4.66!